BHAGAT PURAN SINGH ADARSH HIGH SCHOOL BUTTAR KALAN, QADIAN, GURDASPUR
Bhagat Puran Singh Adarsh High Schoolwas started at Buttar Kalan (Near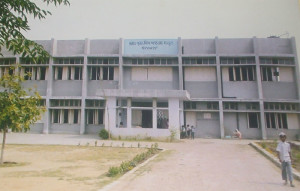 Quadian) in the year 1999. Housed in a spacious two storey building, the school has well qualified and trained staff and is recognized by Punjab State Education Board. In keeping with the pathway shown by Bhagat ji, no fees is charged from the students. Text books and uniforms are supplied free by the Pingalwara Society. Presently the school has over 400 students. The school has well stocked Science Lab, Computer Lab, Music Room and Spacious ground. The school encourages students to take part in various extra-curricular activities held at various  levels such as Music competition, painting competition, Hand-writing competition and many other activities. Students have participated in number of sports events at state level and won prizes. Students are regularly taken for educational tour/excursions. Many students who have left the school after class X and have joined various courses and whose parents cannot afford the expenditure their fees etc are provided financial assistance. One of the teachers who lost her husband and her daughter got admission in BDS is also being provided financial assistance from Education Fund in Pingalwara. In the class 10th final examination all students passed with first division.
District Level Sports Competition
Bhagat Puran Singh Adarsh High School Buttar Kalan did exceedingly  well in Zonal and District Level Sports Competition held on 5th Nov., 2016. Our students won the prizes in various sports events.  Our Relay team of girls under 14 stood first in the District and under 17 team stood third at the District level. Boys Relay team under 14 also stood second in the championship. Apart from that Manpreet kaur stood second in 200 mtr race in under 17 category and Shamsher Singh secured 2nd place in under 14 high jump event.