About Maninder Kaur in her own words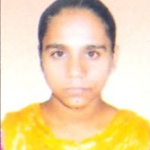 When I came to Pingalwara in 1988 I was very small, I was named as Meenu. When I grew up I started understanding, the things around me. I found myself at a very good place which is a place for destitute, infirm, aged and disabled persons, i.e. Pingalwara Amritsar. After some time, I was eager to know about myself so I enquired from other girls who were residing in Pingalwara. One senior girl amongst them whom I called Bholi Didi whose both legs were deformed because of polio, told me, "you were very small when some people brought you here for admission in Pingalwara". She also told me that my mother had died and grandmother could not look after me so she decided to leave me in Pingalwara.
I am thankful to my grandmother that she brought me in this institution whose founder was a pious soul known as Bhagat Puran Singh. Had I been in my home, I could  not have achieved in life what I have achieved here. I was brought up in Pingalwara by another resident called Dharmo. It is said that foster mother is greater than the mother who gives birth. After sometime my foster mother also expired.
I consider myself fortunate that I had a glimpse of Bhagat Puran Singh and dear brother Piara Singh. If Bhagat Puran Singh had not made the Pingalwara then the children like me would not have safe place to live.  After Bhagat Puran Singh Ji's death I was under the care of Bibi Dr. Inderjit Kaur. I was shifted to Sangrur branch in 2001. There I studied in English Medium school. Now I am doing in B.Sc Nursing in Adesh Medical college Bathinda. If Bibi Dr. Inderjit Kaur had not showered her motherly affection upon us then it would have been possible for me to do B.Sc. Nursing. In Pingalwara all our wishes and needs are fulfilled.
Great Godly Souls like Bhagat Puran Singh are sent on this universe by God. Now we feel the presence of  Bhagat  Puran Singh Ji in the soul of Bibi Dr. Inderjit Kaur.