Rajwant Kaur Wins gold medal
Rajwant Kaur (18) a student of Bhagat Puran Singh Special School at Pingalwara, has won a gold medal in the first ever International Unified Girls' Netball Tournament in Puducherry.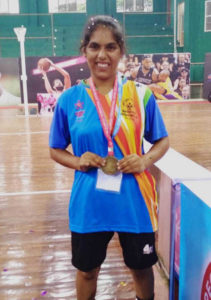 Rajwant, who suffers from intellectual disability, is accompanied by Manjit Kaur, who is her partner and handler as well. "She is a dedicated girl, who has been performing outstandingly in her game. It is indeed a proud moment for Pingalwara.
The first ever two-day International Netball Tournament hosted athletes from several countries, including Sri Lanka. Unified games are an event that brings together person with and without intellectual disability to team up and play. A total of 60 athletes participated with teams comprising nine athletes. Rajwant was a part of the  Bharat team that also had players from Maharashtra, Chandigarh and Delhi.
Pingalwara's special athletes had earlier too brought laurels at international and national sporting events in various sports like power lifting, floor hockey and other sports.